Never recalled! Always FRESH! Life's Abundance dog and puppy food contains only quality, natural, wholesome ingredients formulated to provide 100% complete nutrition in accordance with AAFCO feeding protocols. These premium dog and puppy food formulas are so important because good pet nutrition is essential for a long, healthy life. Our natural dog and puppy foods are formulated by Holistic Veterinarian, Dr Jane Bicks. Our manufacturer is APHIS certified to sell pet food in the European market, which has more stringent regulations than in the U.S. for pet food manufacturing. We make small, frequent batches to insure that you get the freshest food possible. The Life's Abundance food that you get delivered to your door is FRESH. Some store bought pet food could be anywhere from 6 months to a year old!
Life's Abundance All Stage Dry Dog Food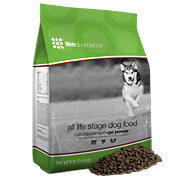 Life's Abundance Premium Health Food is made with superior ingredients, including high-quality chicken and catfish meals, whole grains, tasty vegetables and fruits plus omega fatty acids.

Life's Abundance Small/Medium Breed Puppy
Small and medium breed puppies are full-out, fun-loving companions. Whether it's a spirited romp in the park or a quiet nap on your lap, these precious pups have somewhat different nutritional needs than larger canines.

Life's Abundance Large Breed Puppy Food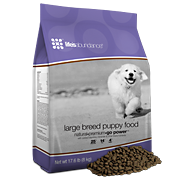 Emerging science has shown that large breed puppies have slightly different nutritional needs than smaller breeds. To help your big bundle of joy grow and thrive, choose Life's Abundance for Large Breed Puppies.